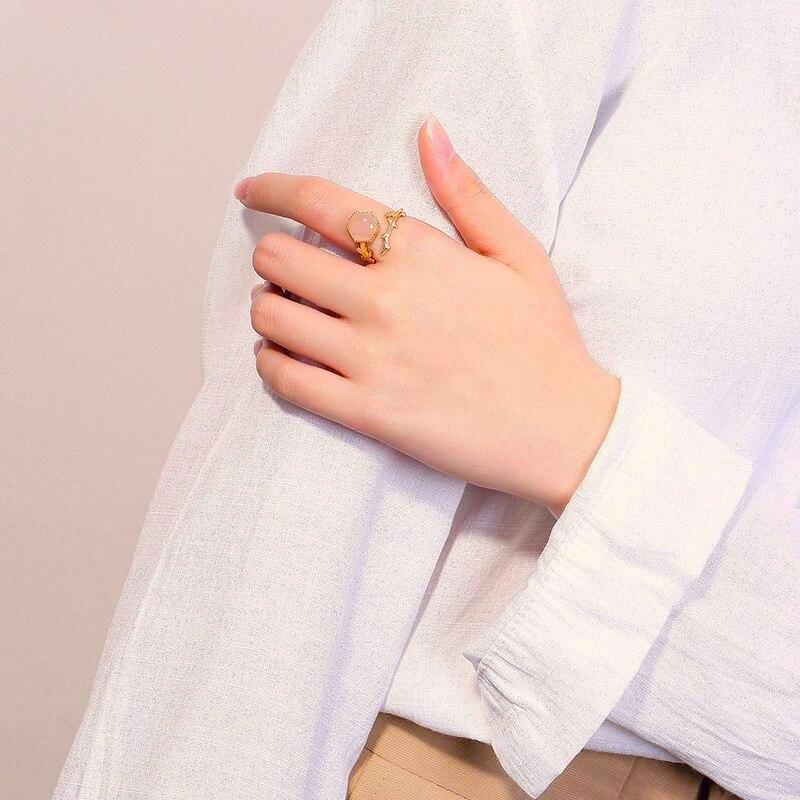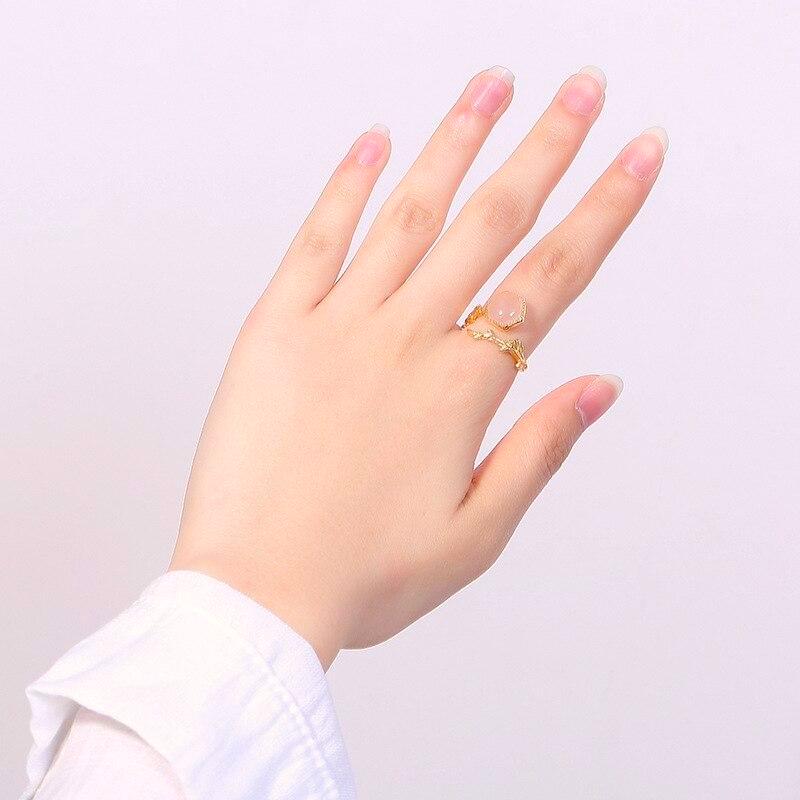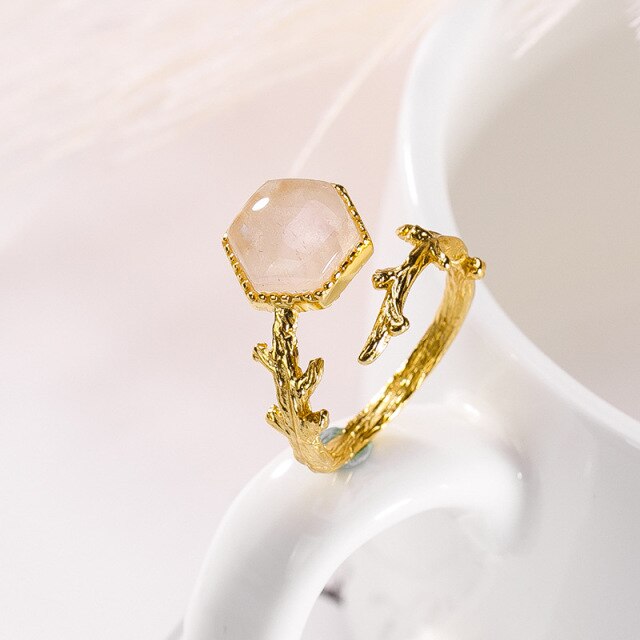 Rea Rose Quartz Crystal Ring
10% OFF on £50 spend & 20% OFF on £100 spend
Delivery
🚚 FREE 2-3 Week Delivery to UK, EU, US, CAN, AUS

Description

Safety & Care
This handmade Rose Quartz ring is a work of art! Designed in our London studio, this unique Rose Quartz ring is crafted with the finest materials and hence classed as fine jewellery. It is created in 925 sterling silver and plated with 18K Gold Vermeil and made to last for years!
WHY BUY ME:
I am a natural rose quartz ring!


SPECIFICATION:
Material: 925 Sterling Silver,

Rose Quartz 

Plating: 18K Gold Vermeil
Size: Adjustable


Healing Properties of Rose Quartz
The blushing hue of Rose Quartz seems to snag everyone's heartstrings. There is something about this soft and feminine crystal that oozes pure love. It comes as no surprise that the Rose Quartz meaning is that of universal love. It restores trust and harmony in relationships, encouraging unconditional love.  Rose Quartz purifies and opens the heart at all levels to promote love, self-love, friendship, deep inner healing and feelings of peace.  Calming and reassuring, it helps to comfort in times of grief.  Rose Quartz dispels negativity and protects against environmental pollution, replacing it with loving vibes.  It encourages self-forgiveness and acceptance invoking self-trust and self-worth.
Rose Quartz strengthens and balances the physical heart and circulatory system, and releases impurities from body fluids.  It hastens recovery, reduces high blood pressure, aids chest and lung problems, heals the kidneys and adrenals, and alleviates vertigo.  
All our Jewellery is nickel-free and hypoallergenic. 
Trendyz Jewellery is crafted to the highest quality to ensure that it keeps its shine for as long as possible. However, as with all jewellery, there are things you can do to help maintain your item for as long as possible.
Using a soft lint-free cloth, periodically wipe your jewellery. This will keep your jewellery looking shiny. Ideally, store your Trendyz purchases in a dark, cool and dry place within an airtight box or bag to help reduce oxidising, scratching and tangling.
Try not to expose your jewellery to perfumes, lotions or any acidic liquids, as this may cause the plating to fade over time. Our gold plated jewellery is water-resistant and will not tarnish. However, we would advise removing all jewellery while in water and avoiding extreme temperatures. Please note, plated jewellery may naturally fade over time. This is not a fault and can be avoided by caring for your jewellery as detailed above. 
Rea Rose Quartz Crystal Ring
Delivery
Personalised Orders
'FREE Delivery' for Personalised orders to UK, EU, US, CAN, AUS & NZ Customers in 3-4 weeks. Please note all personalised pieces are lovingly handmade to order just for you, so kindly be patient while your one-of-a-kind item is being made.
Non-Personalised Orders
For our Non-Personalised items, the Delivery times vary. Exact Delivery times are mentioned on the product page under the 'Add to Cart' & also shown at the checkout! Non-Personalised items are delivered FREE to the UK, EU, US, CAN, AUS, NZ & ME
Multiple Orders
If you order a personalised item as well as a non-personalised item, we usually post them together. If you want your non-personalised item delivered sooner, please make a separate order for it.
FAQ
Where do you ship to?
We ship to UK, Europe, US, Canada, Australia, New Zealand and the Middle East. Please ensure that the correct address details are provided on your order in compliance with the postal requirements of the recipient country. Incorrect information can result in packages being returned & we are unable to resend without an additional postal fee.
What if i don't receive my order?
Trendyz Jewellery is backed by 'Money Back Guarantee.' If UK & European customers do not receive their order within 55 days for any reason, then they are eligible for a full refund. For the rest of the world countries, if the order is not delivered within 65 days for any reason, then customers become eligible for a full refund.
What is your Returns Policy?
Trendyz Jewellery have a 14 days Returns Policy. In the unlikely event that you are unhappy with your purchase, you can return the items to us within 14 days of receipt of order and we will be happy to offer you a full refund minus any postage costs incurred to us, providing the goods are returned in unused perfect condition and in the original packaging. Please note we do not offer exchanges. Personalised orders cannot be returned or refunded under any any circumstanes. If a mistake is made on our part then we will send you a replacement item but no refund will be offered.
Can i cancel an order after placing it?
Unfortunately once an order has been placed, it cannot be cancelled.
18K Gold Plated
Personalised Jewellery by Trendyz
We stand firmly behind the outstanding quality of our Personalised Jewellery! Our pieces are coated with 3 thick layers of pure 18K Gold so they won't tarnish or fade. The pieces look and feel just like solid gold without the hefty price tag. Your personalised order will arrive in a luxury gift box or a branded pouch ready to be gifted.