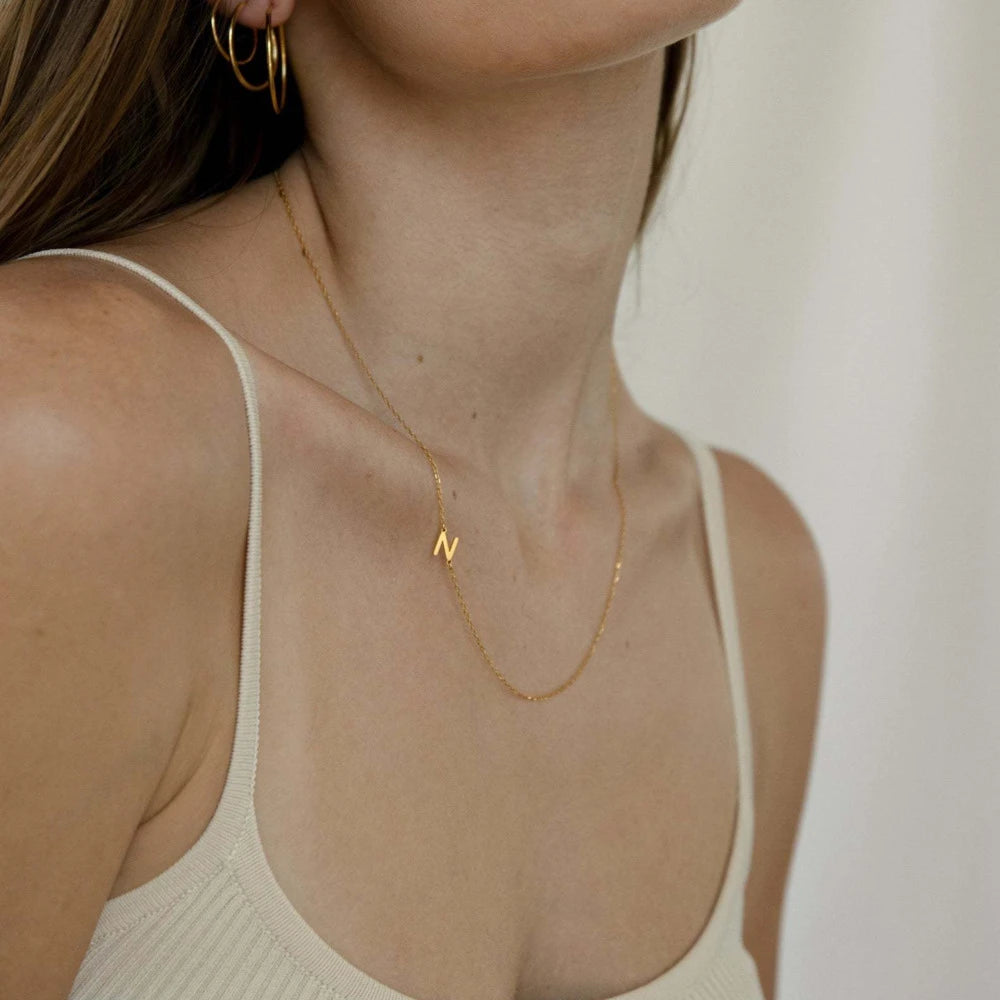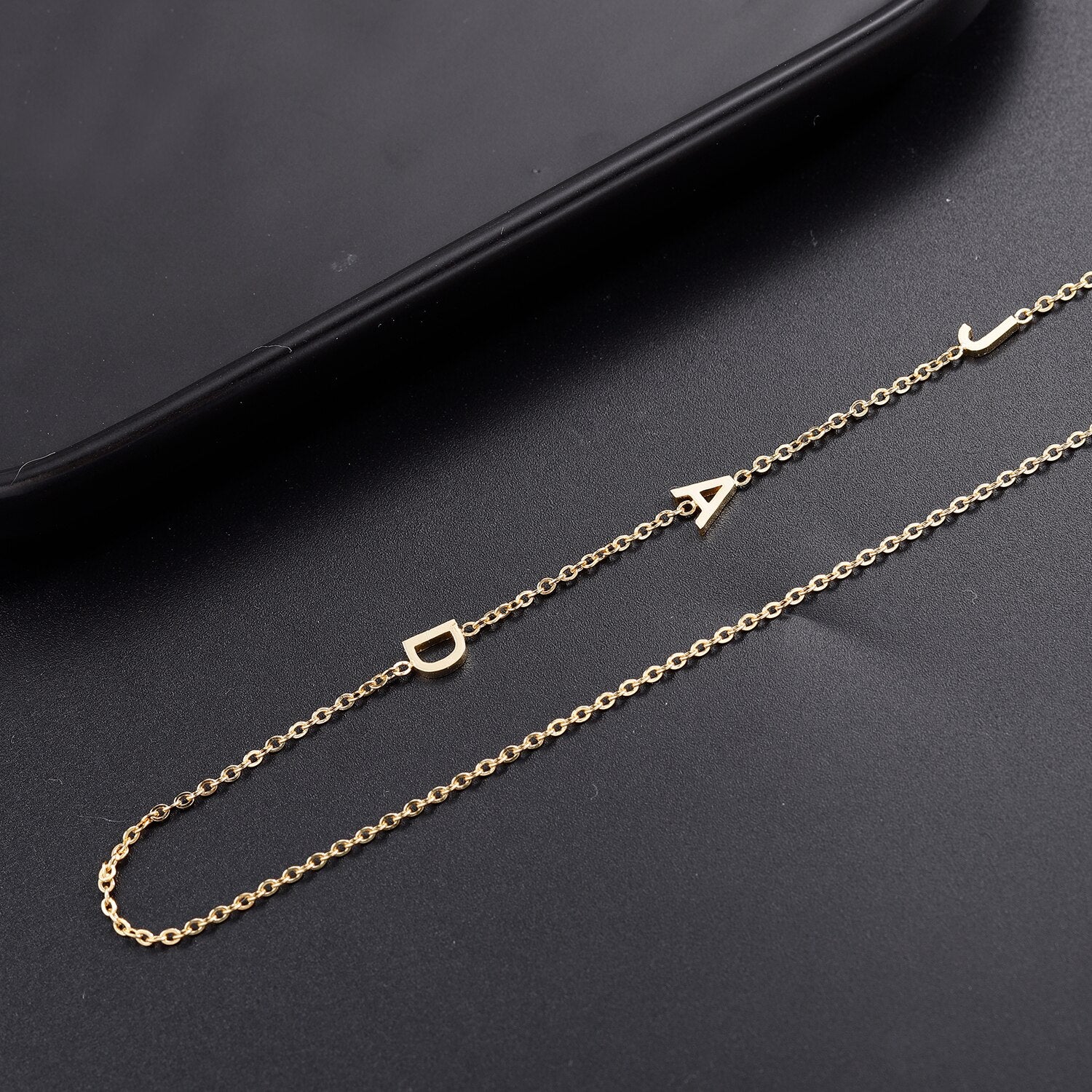 Personalised Sideways Initial Letter Necklace
10% OFF on £50 spend & 20% OFF on £100 spend
Delivery
🚚 FREE 2-3 Week Delivery to UK, EU, US, CAN, AUS
Description

Safety & Care
Get ready to amp up your style with our electrifying Personalised Sideways Initial Letter Necklace. This little gem is more than just a necklace—it's a personalised fashion statement that screams "I'm unique!"
Picture this: a stunning sideways initial pendant hanging from a sleek and stylish chain. It's the perfect blend of edgy and elegant, designed to turn heads and capture attention wherever you go. This necklace is a showstopper and it's ready to make you the centre of attention at every party, gathering, or night out on the town.
But wait, it gets even better! This necklace is all about personalisation. We know you're one-of-a-kind, so why not flaunt it? Choose the initial that means the world to you or someone special, and watch as it transforms into a symbol of individuality and self-expression. It's like wearing your personality around your neck—how cool is that?
Quality? Oh, you bet! We don't mess around when it comes to crafting the finest jewellery. Our Personalised Sideways Initial Letter Necklace is meticulously made with top-notch materials, ensuring it stands the test of time and keeps shining brighter than a supernova. It's a piece that not only adds a touch of class but also represents the strength and resilience that defines you.
The Duchess of Sussex, Meghan Markle wore a similar initial letter necklace with letters 'M' and 'H' during the early days of her relationship with Prince Harry.


WHY BUY ME?
Personalised letter initial necklaces are one of the most fashionable ways that monograms show up in today's latest fashion trends. The current fever for initial jewellery is a revival. While today we see monograms as a decorative way to embellish jewellery, the tradition of hand engraving initials can be traced back to the early ages when monogramming was one of the earliest forms of identification, found on Roman coins with markings of their rulers' initials. The coins of old Greek cities were discovered with the same use of initials, allowing us to identify the ruler of the region from which the currency originated many many years ago. 
The sentimental value of initial jewellery makes it the perfect gift for someone that extra special. As one of our best sellers, the Initial Necklace is guaranteed to make the recipient of the gift have a permanent smile on their face every time they wear it. 
SPECIFICATION:
Material: Stainless Steel
Plating: 18K Gold
Letters: 1-3



HOW TO ORDER:
Please leave your initials (1-3) in the 'personalised text' box. 
NECKLACE SIZE CHART:


All our Jewellery is nickel-free and hypoallergenic. 
Trendyz Jewellery is crafted to the highest quality to ensure that it keeps its shine for as long as possible. However, as with all jewellery, there are things you can do to help maintain your item for as long as possible.
Using a soft lint-free cloth, periodically wipe your jewellery. This will keep your jewellery looking shiny. Ideally, store your Trendyz purchases in a dark, cool and dry place within an airtight box or bag to help reduce oxidising, scratching and tangling.
Try not to expose your jewellery to perfumes, lotions or any acidic liquids, as this may cause the plating to fade over time. Our gold plated jewellery is water-resistant and will not tarnish. However, we would advise removing all jewellery while in water and avoiding extreme temperatures. Please note, plated jewellery may naturally fade over time. This is not a fault and can be avoided by caring for your jewellery as detailed above. 
Personalised Sideways Initial Letter Necklace
Delivery
Personalised Orders
'FREE Delivery' for Personalised orders to UK, EU, US, CAN, AUS & NZ Customers in 3-4 weeks. Please note all personalised pieces are lovingly handmade to order just for you, so kindly be patient while your one-of-a-kind item is being made.
Non-Personalised Orders
For our Non-Personalised items, the Delivery times vary. Exact Delivery times are mentioned on the product page under the 'Add to Cart' & also shown at the checkout! Non-Personalised items are delivered FREE to the UK, EU, US, CAN, AUS, NZ & ME
Multiple Orders
If you order a personalised item as well as a non-personalised item, we usually post them together. If you want your non-personalised item delivered sooner, please make a separate order for it.
FAQ
Where do you ship to?
We ship to UK, Europe, US, Canada, Australia, New Zealand and the Middle East. Please ensure that the correct address details are provided on your order in compliance with the postal requirements of the recipient country. Incorrect information can result in packages being returned & we are unable to resend without an additional postal fee.
What if i don't receive my order?
Trendyz Jewellery is backed by 'Money Back Guarantee.' If UK & European customers do not receive their order within 55 days for any reason, then they are eligible for a full refund. For the rest of the world countries, if the order is not delivered within 65 days for any reason, then customers become eligible for a full refund.
What is your Returns Policy?
Trendyz Jewellery have a 14 days Returns Policy. In the unlikely event that you are unhappy with your purchase, you can return the items to us within 14 days of receipt of order and we will be happy to offer you a full refund minus any postage costs incurred to us, providing the goods are returned in unused perfect condition and in the original packaging. Please note we do not offer exchanges. Personalised orders cannot be returned or refunded under any any circumstanes. If a mistake is made on our part then we will send you a replacement item but no refund will be offered.
Can i cancel an order after placing it?
Unfortunately once an order has been placed, it cannot be cancelled.
18K Gold Plated
Personalised Jewellery by Trendyz
We stand firmly behind the outstanding quality of our Personalised Jewellery! Our pieces are coated with 3 thick layers of pure 18K Gold so they won't tarnish or fade. The pieces look and feel just like solid gold without the hefty price tag. Your personalised order will arrive in a luxury gift box or a branded pouch ready to be gifted.