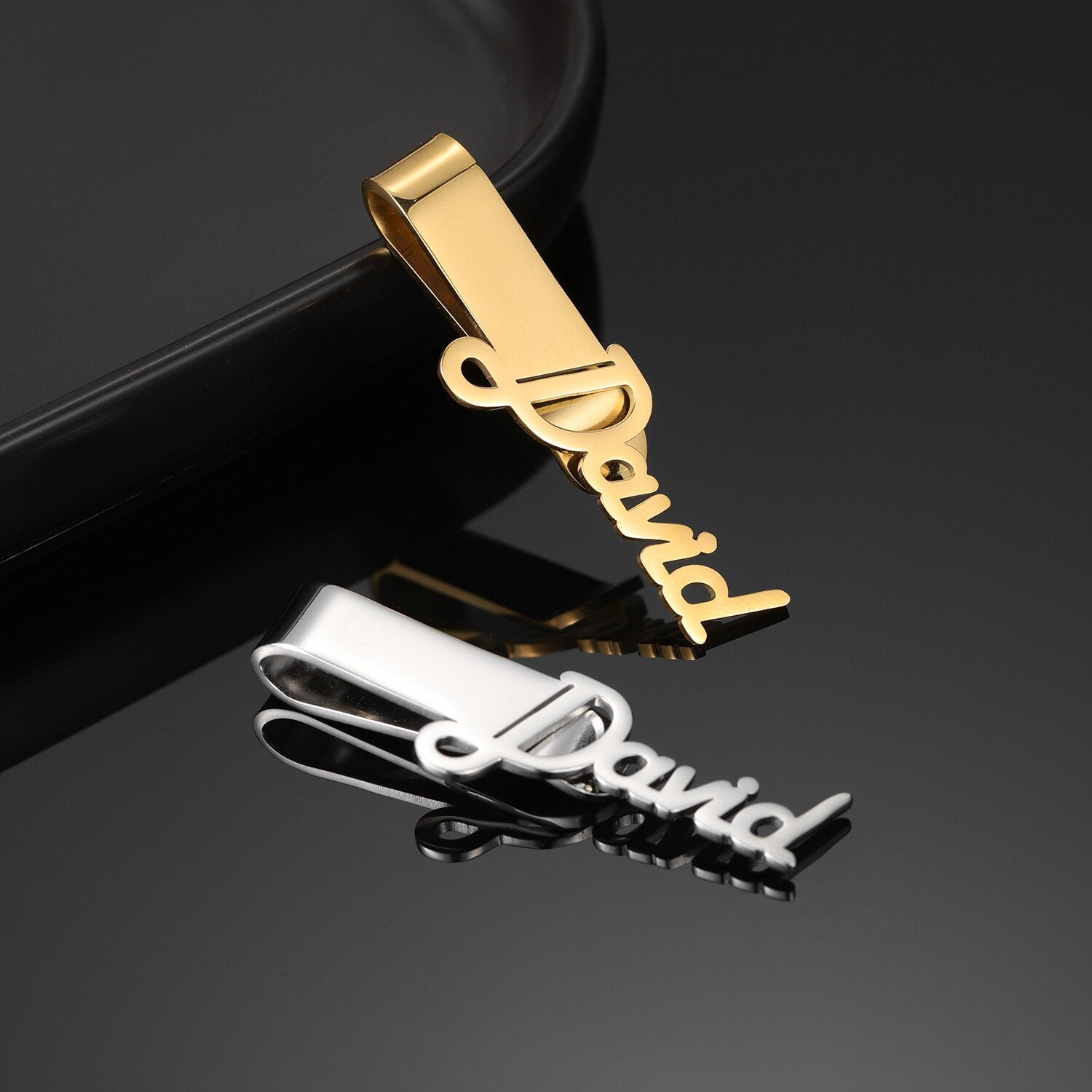 Personalised Name Tie Clip for Men
$39.79
Regular price
$51.35
10% OFF on £50 spend & 20% OFF on £100 spend
Delivery
🚚 FREE 3-4 Week Delivery to UK, EU, US, CAN, AUS
Description

Safety & Care
Elevate your formal attire to unparalleled levels of style and sophistication with our exceptional Personalised Name Tie Clip for Men. This is not just any ordinary tie clip – it's a masterpiece of personalised elegance, designed exclusively for those who appreciate the finer things in life.

Engrave your own name, initials, or a meaningful word on this sleek and polished tie clip, and witness the transformation it brings to your ensemble. It's a subtle yet powerful statement that speaks volumes about your refined taste and attention to detail. And let's not forget the impeccable craftsmanship – every curve and line is carefully crafted to perfection.
WHY BUY ME?

Not only does this tie clip add a touch of bespoke charm to your outfit, but it also keeps your tie securely in place throughout the day, ensuring you maintain that impeccable look. It's a must-have accessory for business meetings, weddings, or any formal event where you want to make an unforgettable impression.


SPECIFICATION:
Material: Stainless Steel

Plating: 18K Gold Plated

Size: 3-5cm approx.
HOW TO ORDER:
Please enter the name in the personalised text box (up to 10 characters). This item comes only in the font shown in the images. 
All our Jewellery is nickel-free and hypoallergenic. 
Trendyz Jewellery is crafted to the highest quality to ensure that it keeps its shine for as long as possible. However, as with all jewellery, there are things you can do to help maintain your item for as long as possible.
Using a soft lint-free cloth, periodically wipe your jewellery. This will keep your jewellery looking shiny. Ideally, store your Trendyz purchases in a dark, cool and dry place within an airtight box or bag to help reduce oxidising, scratching and tangling.
Try not to expose your jewellery to perfumes, lotions or any acidic liquids, as this may cause the plating to fade over time. Our gold plated jewellery is water-resistant and will not tarnish. However, we would advise removing all jewellery while in water and avoiding extreme temperatures. Please note, plated jewellery may naturally fade over time. This is not a fault and can be avoided by caring for your jewellery as detailed above. 
Personalised Name Tie Clip for Men
$39.79
Regular price
$51.35
Delivery
Personalised Orders
'FREE Delivery' for Personalised orders to UK, EU, US, CAN, AUS & NZ Customers in 3-4 weeks. Please note all personalised pieces are lovingly handmade to order just for you, so kindly be patient while your one-of-a-kind item is being made.
Non-Personalised Orders
For our Non-Personalised items, the Delivery times vary. Exact Delivery times are mentioned on the product page under the 'Add to Cart' & also shown at the checkout! Non-Personalised items are delivered FREE to the UK, EU, US, CAN, AUS, NZ & ME
Multiple Orders
If you order a personalised item as well as a non-personalised item, we usually post them together. If you want your non-personalised item delivered sooner, please make a separate order for it.
FAQ
Where do you ship to?
We ship to UK, Europe, US, Canada, Australia, New Zealand and the Middle East. Please ensure that the correct address details are provided on your order in compliance with the postal requirements of the recipient country. Incorrect information can result in packages being returned & we are unable to resend without an additional postal fee.
What if i don't receive my order?
Trendyz Jewellery is backed by 'Money Back Guarantee.' If UK & European customers do not receive their order within 55 days for any reason, then they are eligible for a full refund. For the rest of the world countries, if the order is not delivered within 65 days for any reason, then customers become eligible for a full refund.
What is your Returns Policy?
Trendyz Jewellery have a 14 days Returns Policy. In the unlikely event that you are unhappy with your purchase, you can return the items to us within 14 days of receipt of order and we will be happy to offer you a full refund minus any postage costs incurred to us, providing the goods are returned in unused perfect condition and in the original packaging. Please note we do not offer exchanges. Personalised orders cannot be returned or refunded under any any circumstanes. If a mistake is made on our part then we will send you a replacement item but no refund will be offered.
Can i cancel an order after placing it?
Unfortunately once an order has been placed, it cannot be cancelled.
18K Gold Plated
Personalised Jewellery by Trendyz
We stand firmly behind the outstanding quality of our Personalised Jewellery! Our pieces are coated with 3 thick layers of pure 18K Gold so they won't tarnish or fade. The pieces look and feel just like solid gold without the hefty price tag. Your personalised order will arrive in a luxury gift box or a branded pouch ready to be gifted.